How To Fix Error 3194 When Upgrading iPhone 3GS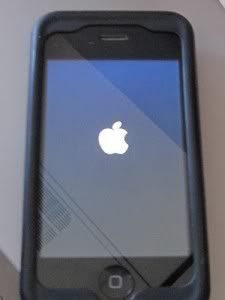 How To Fix Error 3194 When Upgrading iPhone 3GS
Disclaimer :
Follow this tutorial carefully, do it with your own risk
Symptoms :
iPhone Stuck on Apple Logo ( caused by error when jailbreaking process using Redsn0w 0.9.6b5 )
Firmware Version 4.2.1
Baseband / Modem version 06.15.00 ( upgrade to iPad baseband )
Try to restore using iOS 4.2.1 , 4.3.2, 4.3.5, and 5.0.1 always show error 3194 on iTunes
Tools & Materials :
Latest iTunes software
PC
iPhone USB data cable
iOS 4.1 for iPhone 3GS | Download |
Sn0wbreeze V2.1 | Download |
TinyUmbrella | Download |
Internet / Wifi Connections
Step by steps :
Open Sn0wbreeze
Click simple mode, then browse and select iOS 4.1 file
Wait untill Sn0wbreeze create custom ipsw ( saved to PC desktop )
Follow Sn0wbreeze instruction for entering iPhone into DFU mode
Close Sn0wbreeze software
Open iTunes software and connect iPhone to PC
Hold Shift ( PC Keyboard ) and click restore
Select the IPSW created by Sn0wbreeze ( on PC desktop )
Wait until iPhone upgrading success ( if any error when upgrading, just reconnect your iphone )
Close iTunes
Open TinyUmbrella
Click Fix Recovery
Viola...!!!! Your iPhone go back to Normal and jailbroken.
You can continue to unlock your iPhone ( if your iPhone locked before )
Just connect iPhone to Internet / Wifi
Open Cydia
Click Manage
Click Source, update all avaliable packages.
type http://repo666.ultrasn0w.com/
Install ultrasn0w
Reboot iPhone
Viola again..., your iPhone now unlocked.
**
Unlock and Jailbreak iPhone 2G iOS 3.1.3 Using Redsn0w 0.9.4
**
How To Fix iPhone 3G No Service After Unlocking
**
How To Fix This Accessory is not made to work with iPhone on 2G and 3G
How To Fix Error 3194 When Upgrading iPhone 3GS
Read more
Popular This Week
How To Flash Nokia C3 RM-614 Using Phoenix Service Software How To Flash Nokia C3 RM-614 Using Phoenix Service Software Tools & M...

MXBOX NOKIA STANDALONE BOX powered by HTI (High Tech Interface) Driver Download MXBOX NOKIA STANDALONE BOX powered by HTI (High Tech Int...

How To Perform Screen Capture On Samsung Galaxy Mini Performing screen capture on Samsung galaxy Mini S5570 without rooting and softwa...

Samsung Galaxy Mini S5570 Hard Reset Warning By performing a factory reset will delete and wipe all of your personal data, so we highl...

How To Flash Samsung Galaxy Ace Plus GT-S7500 Via Odin Multiloader To flash / upgrade your Samsung galaxy ace plus GT-S7500 via Odin mu...

Categories
Android Apps and Games
Assembly And Disassembly
Balckberry Firmware Download
Basic Info
Cellphone Hard Reset
Cellphone News nad Review
Cellphone Pinout
Cellphone Schematics
Chinese Phone Firmware Download
Dell Android Firmware Download
Dell Streak ROM
Flasher Box
Free Blackberry Themes Download
Free iPhone Apps Download
Free iPhone Games Download
Free Software Download
GSM News and Updates
Hardware Tutorial
Huawei Android Firmware Download
iPad Firmware Download
iPhone Firmware Download
iPod Firmware Download
LG Firmware Download
Nokia Firmware Download
Samsung Android Firmware
Samsung Bada Os Firmware Download
Samsung Windows Phone Firmware Download
Software Tutorial
Sony Ericsson Android Firmware Download
Top Paid iPhone Games